How Much of St. Jude Donations Go to Research : The research hospital for children Saint Jude Children's Research Hospital started in the year 1962, the hospital started its medical research center  to treat cancer children and primarily focused on children's catastrophic diseases and diseases like leukemia and other cancers. The hospital spends around $2.8 million in treating the children who are affected with cancer. While the hospital spends millions each year in curing and treating cancer patients, it does not ask any money from the patient, it shows how selflessly and generously they are working towards their mission to treat cancer patients. The company operates from Memphis, Tennessee which is a non-profit organization itself and has a 501(c)(3) tax-exempt certificate which is given by (IRS) Internal Revenue Service.
What exactly is St Jude charity donations?
St. Jude Children's Research Hospital, a kind-hearted organization, mainly concentrates on pediatric medical care and research, particularly in the domains of childhood cancer and other severe diseases. Let's break down what donations to St. Jude help with:
Medical Treatment: St. Jude offers extensive medical care to kids dealing with life-threatening conditions, like cancer. They provide the costs for treatment, which include chemotherapy, radiation therapy, surgeries, and more. Families of these children won't receive any bills for the treatment by easing their financial worries and letting them concentrate on their child's health and well-being.
Research: St. Jude conducts thorough research to gain a better understanding, treatment, and, ultimately, cures for pediatric diseases, especially childhood cancer. Donations lend their support to the hospital's research endeavors, encompassing clinical trials, lab studies, and innovative therapies.
Support for Patients and Families: Beyond medical care, St. Jude provides an array of services to patients and their families. These services encompass housing, transportation, and meal aid. These provisions guarantee that families can stay close to their children during treatment without fretting over the associated expenses.
Education and Outreach: St. Jude commits itself to raising awareness about pediatric diseases and educating the public about the significance of finding cures for these conditions. Donations contribute to these educational campaigns and outreach programs.
Global Impact: St. Jude's mission base is in Memphis, Tennessee. The organization collaborates with global partners to share research discoveries and treatment protocols, which can benefit kids with severe diseases across the world.
Prevention and Survivorship Programs: St. Jude invests in programs to prevent and alleviate the long-term consequences of childhood diseases, particularly cancer. They also emphasize delivering specialized care and support to survivors of pediatric diseases.
Donations to St. Jude Children's Research Hospital are indispensable for sustaining their operations, conducting life-saving research, and delivering care to children and their families. When you contribute to St. Jude, you are increasing their quest to advance medical science and enhance the lives of children confronting grave illnesses.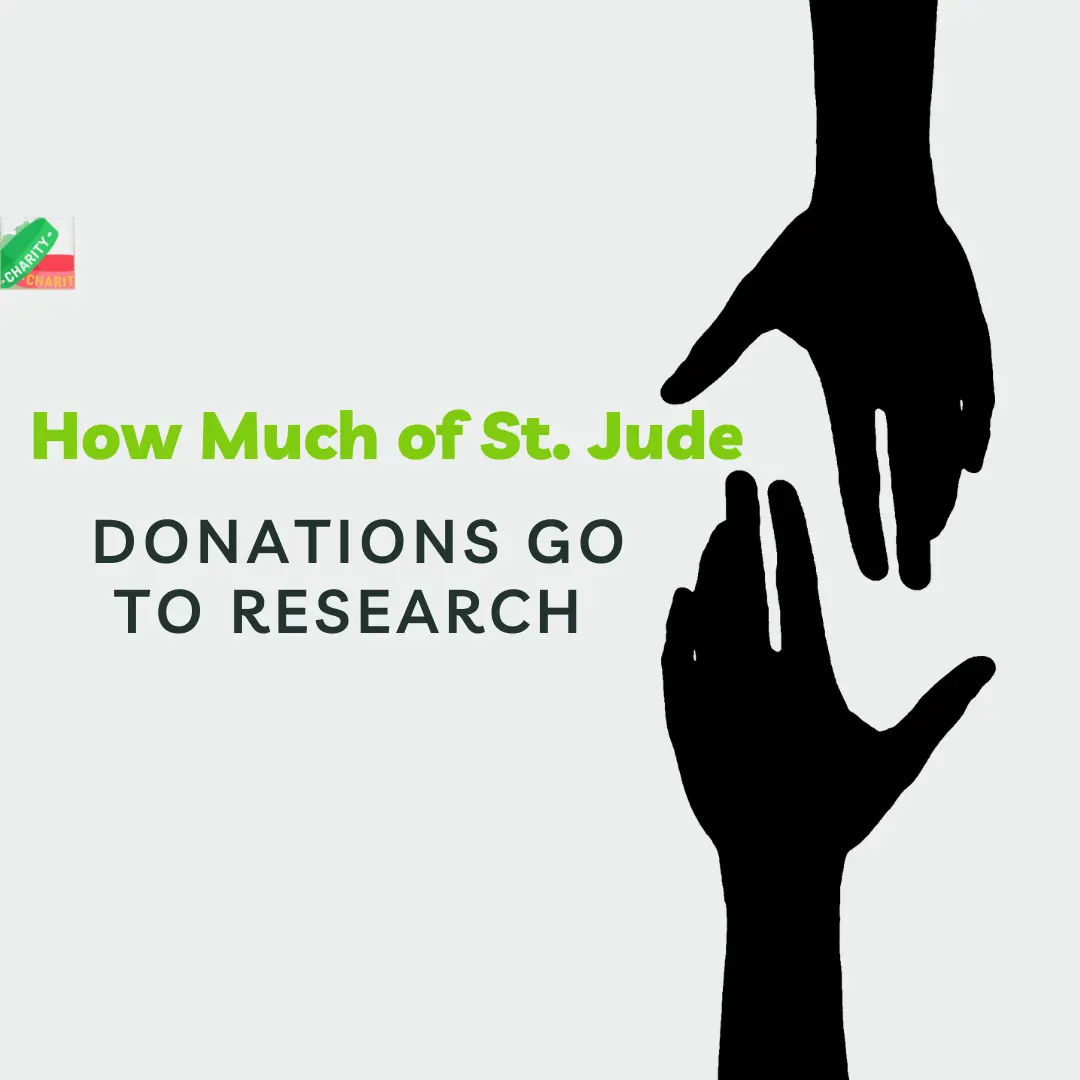 How Much Of St. Jude Donations Go To Research?
Seventy-eight percentage of your donation goes to support the current and future therapy and study for kids at St. Jude and around the world who benefit from our lifesaving work," says the website for St. Jude Children's Research Hospital
When you add from Insurance recoveries and research grants, that amount increases to 82 cents of each dollar received going to support patients today and in the future. The Charity Navigator website, citing information from 2015, says 73 percent of St. Jude's expenses are for its programs, together with the 10.8 percent for administration and 16.1% for fundraising expenses.
Over the past seven years, St. Jude has allocated 82 cents from each dollar received to back the treatment, research, and future needs. This empowers St. Jude Children's Research Hospital to openly share data and discoveries with fellow researchers, increase the progress of remedies and solutions for childhood cancer and its enduring impacts.
Does St. Jude Share Their Research?
Indeed St. Jude Children's Research Hospital shares their discoveries, data, and other information freely with other researchers. For instance, the Pediatric Cancer Genome Project is led by Washington University and St. Jude which seeks genetic origins of life-threatening diseases like cancer and tries to find out possible new treatments and cures.
The raw sequence data for the published results are shared freely with the global research community as well.
The charity also:
Launched an online resource known as Cure4Kids that is committed to supporting the care of children affected by cancer or any other catastrophic diseases
Partners with PAHO and countries of Latin America and the Caribbean
Act as an implementation partner for the global initiative for childhood cancer
Partners with international collaborators such as St. Jude Global and NCI-designated cancer centers.
Is St. Jude A Good Charity donation organization?
If you are not sure how St. Judes  hospital has established itself as a charity donation, just to make sure you are satisfied with the operations that is taking place in the cancer research hospital, is able to deliver extraordinary treatment with unbelievable 80% chances of survival rates from the lowest 20% when it was started. Today the cancer research center pushed its self to giving extraordinary services towards cancer patients. And, no household receives a statement from St. Jude — may be not to the price of therapy, travel, food, and housing since thinking all a family must worry about is assisting their child to reside.
St. Jude Children's Research Hospital is widely considered to be a reputable and well-respected charity organization. St. Jude is known for its mission to treat and conduct research into pediatric catastrophic diseases, particularly childhood cancer, and is famous for its commitment to providing care to children and their families at no cost. Here are some factors that have contributed to its positive reputation:
No Cost to Patients: St. Jude is known for its policy of treating children without regard to the family's ability to pay. This ensures that families do not face financial burdens while seeking treatment for their children.
Research and Treatment: St. Jude is dedicated to advancing the field of pediatric medicine through cutting-edge research and medical treatment. Its research has led to significant advancements in the understanding and treatment of childhood diseases.
Transparency and Accountability: St. Jude is transparent about how donations are used and has a good reputation for financial stewardship. It consistently receives high ratings from independent charity evaluation organizations like Charity Navigator.
Celebrity and Public Support: Many well-known celebrities and individuals support St. Jude, which further adds to its visibility and credibility.
What Are The Ratings Of St. Jude Organization Donations?
An organization named Charity Navigator evaluates nonprofit organizations based on financial health, accountability, and transparency. This organization has given ALSAC/ St. Jude Children's Research Hospital a 4 out of 4-star rating.
While few opine that St. Jude is a good charity that helps children with cancer and life-threatening diseases few others regard St. Jude to be the most highly regarded and largest healthcare charity in the United States.
Since its inception 50 years ago the charity has helped to increase survival rates for childhood cancer and catastrophic diseases from 20% to 80%. The charity does not charge poor families for their treatment costs. Popular celebrities that support the St. Jude Children's Research Hospital are Anna Kendrick, Alison Sweeney, Amber Valletta, Amanda Seyfried, Ariana Grande, Antonio Banderas, Ashlee Simpson, and Anna Kournikova.
How Much Does St Jude Receive In Donations Each Year?
ALSAC raises $750 million annually, the operational costs for treating every cancer patient is about $1.7 million dollar every day. Of which 81% goes towards cancer children treatment costs and other operational research costs. David McKee, ALSAC's chief operating officer, states that 74 percent of St. Jude's funding comes from contributions.
Is St. Jude Donations Tax-Deductible?
St. Jude is exempt from federal income taxation under Section Your present is tax-deductible to the complete extent provided by law.
What was the biggest donation to St. Jude?
Domino's Pizza, in a historic act, contributed $100 million to St. Jude Children's Research Hospital, marking the most substantial donor pledge in the hospital's annals. Contributions to St. Jude serve to bankroll exploration and meet the expenses of life-saving therapy and top-tier patient care. Your contribution will bolster the day-to-day operations at St. Jude, where no family will incur expenses for treatment, travel, lodging, or nourishment – allowing them to wholeheartedly focus on helping their child's well-being. Your backing also secures a bright future for St. Jude, allowing us to expand our reach and serve as many children as conceivable. Irrespective of the sum you can provide, every contribution makes a meaningful impact!
How much of every dollar donations would go to Saint Jude Children's Research Hospital?
Through millions of generous kind contributions from donors today Saint Jude Children's Research Hospital  is able to receive 82% of its donations goes to treating cancer children which involves treatment. Maintain and Nearly all funds required to operate St. Jude has to be increased from donors, but we also obtain some revenue from study grant financing, insurance recoveries, and yields on our investments. When you look at overall earnings, ALSAC and St. Jude are pleased that 82 cents of each dollar received has gone to encourage research and patients at St. Jude now and in the foreseeable future. there are other charities also about them you would love to know What percentage of donations go to Shriners hospital.
What Happens When You Donate To St. Jude?
Around $0.82 of each dollar received goes for funding research, treatment, and future requirements of St. Jude. It is a remarkable and significant percentage, unlike other charitable organizations which generally spend a small part of their donation on treatment and research purposes.
The dedication of St. Jude and its remarkable activities has made it one of the leading and most popular Children's Hospitals worldwide. The Children's Hospital has been at the forefront of developing new treatments to eliminate childhood cancer. Its research and dedication have helped to improve the childhood cancer survival rate from 20% to 80% today.
Following are few examples that demonstrate how donations received by St. Jude are used for supporting research.
Conducting clinical trials and testing new treatments developed
Funding for clinical research and laboratory
Training the upcoming generation of pediatric cancer researchers
Developing new treatments and therapies for pediatric diseases and childhood cancer.
The donations to St. Jude not only support research but also help cover the expensive cost of world-class patient care and life-saving treatment. No individual or family receives the bill for travel, treatment, food, or housing at the charity so that they can focus only on their child's life.
In case you are looking for a charitable organization to support through donations then St. Jude Children's Research Hospital will be a right choice. Your donation will make a significant difference in the lives of poor children suffering from cancer or other severe and life-threatening diseases.
Where Do I Send Donations To St. Jude's Children's Hospital?
If you want to donate to Saint Jude Children's Hospital you can mail a check to 501 St. Jude Place, Memphis TN 38105, or donate online. You can also contact the charity at 800-213-6584. Further, you want to contact the charity between Monday to Friday at 800 822-6344 between 7:00 AM to 9:00 PM CT. Donors who want to make a memorable and unique gift can include the name of the person on the check. You can also visit HSN.com to shop for St. Jude Children's Research Hospital.
How St Judes Make Donations?
St Judes cancer research center is widely established  501 (c) (3) Non-profit organization, with an annual expenses of $1.4 billion  as of 2018, of which an additional $1.5 billion comes in donation. Donations for St Judes cancer research center comes from several non-profit and other organizations such as government grants and insurance companies working closely towards charity. About 75% of the funding comes from the American Lebanese Syrian Associated Charities (ALSAC) which helps St.judes by collecting funds in the name of charity organization. the American Lebanese Syrian Associated Charities gives away every dollar of which $0.82 directly goes to St Judes cancer research center.
All children who get treated at the hospital are treated free of cost and no money is being asked from their parents without asking them to pay even a single penny. St. Jude is one of a couple of research organizations from the United States where families never pay for treatments That Aren't covered by Families without insurance, and insurance is never asked to pay off. In addition To providing services to qualified patients, St. Jude assists Families with lodging, transportation, and meals. Three separate Home facilities– Tri Delta Place for temporary And Target House for long-term (3 weeks or longer )–supply housing for patients As well as 3 family members. It will cost more than $2.4 million dollars every towards hospital operational costs such as research expenditures.
Do Any Celebrities Donate To St. Jude?
Indeed a lot of celebrities make their donations to St. Jude Children's Research Hospital.
St. Jude Thanks and Giving campaign
Popular celebrities like Chip and Joanna Gaines, Sofia Vergara, Michael Strahan, and Luis Fonsi helped to raise money for the annual holiday campaign of St. Jude Children's Research Hospital.
Childhood Cancer Awareness Month
Popular celebrities like Alysia Reiner and Howie Mandel support the charity during Childhood Cancer Awareness Month.
There are local celebrities like Isaac Bruce, Luke Kennard, and Pete Pranica, who have participated in benefiting St. Jude Children's Hospital.
Celebrities like Luis Fonsi, Chip and Joanna Gaines, Sofia Vergara, and Michael Strahan rally communities for the hospital.
Jennifer Aniston and Sophia Virginia celebrities that appear in Saint Jude add, A few other celebrity supporters of the Saint Jude Children's Hospital are Anna Kendrick, Alison Sweeney, Amber Valletta, Amanda Seyfried, Ariana Grande, Antonio Banderas, Ashlee Simpson, and Anna Kournikova
St Judes Controversy
The government alleges the kickbacks caused statements to Be submitted to federal healthcare plans in violation of the False Claims Act. The DOJ said kickbacks included Retroactive and compensated based on the previous purchases of St. Jude of a hospital Heart-device gear. The DOJ said St. Jude paid rebates for purchases Of equipment offered by its rivals Similar equipment from St. Jude later on. There are many other charitable donations that are helping needy families.
Conclusion 
Donating to well-established and charities like St. Jude can make a significant difference in the lives of those in need, but due diligence is essential to ensure your contributions have the intended impact.
St. Jude Children's Research Hospital is generally regarded as a reputable and commendable charity organization. Its dedication to treating and researching pediatric catastrophic diseases and its commitment to providing free care to children and their families, and its transparent and accountable financial practices have all contributed to its positive reputation.